Loving God. Loving People. Making Disciples In Adelaide's North.
Our 10am Sunday gathering is when our whole community comes together, as we seek to be a gathering who are Loving God, Loving People and Making Disciples. It's beautifully simple and we'd love you to join us as we seek to become mature followers of Jesus, living for God's glory in his world, taking the good news of Jesus into Adelaide's Northern Suburbs.
---
We are working hard at being a COVID Safe church to care for our community and one another, this means we are a mask friendly church. Please feel free to wear a mask at anytime.
---
What Sunday Looks Like
Our Sundays are centred around learning who Jesus is, what he's done and the promises of eternal hope found in God's word, the Bible. You can expect a Sunday gathering that's:
Open, warm and welcoming to everyone from any background and any walk of life. We know we're right with God because we're forgiven, not because we're good—so we don't expect anything different of anyone else.
Thought-provoking and practical. Jesus isn't a dead historical figure who has some wise words for life. He's God's risen king who is active in shaping who we are—from the big decisions of life to the day-to-day decisions we make. So when we open the Bible and hear about Jesus, we expect to be changed, because the person speaking is alive and knows us like no other.
A celebration and thanksgiving for what God has done for us. So we'll sing about what God has done, reminding each other of the truth, and we'll pray to God, our Father, who longs to hear from his people.
Family-friendly for children of all ages. You can expect to find a segment in each service where the kids will be involved. Then they'll head out to other rooms for kids programs. Crèche is also provided.
Our one hope is that you'll hear, see and want to investigate the person who has brought us together.
---
If you'd like to check us out and get a taste of what our gathering is like, we recorded our services during the COVID Pandemic and you can watch a number of them online. We've also put one of our more recent Bible talks below too.
---
Before
Head into the main entrance of Pedare Christian School, just off Surrey Farm Drive, follow the road to the main office and park anywhere you like – there's heaps of space available.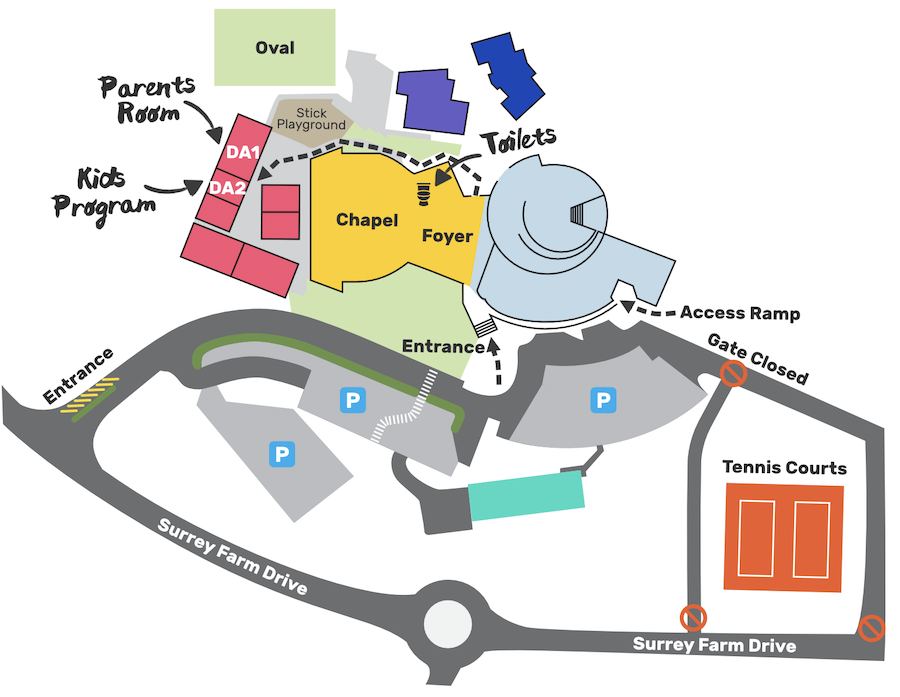 When you arrive at the chapel, someone will welcome you, ask for your name to give you a name tag and welcome you in. There's also a chance to say hello to others and download the service outline from our online HUB. Take a seat whenever you're ready.
During
Every Sunday there will be some music, a Bible reading, kids talk and then the pastor will speak for about 25 minutes and explain the Bible passage that was read. After that, one of our church members will pray for current issues in the world, for the church and for people in our community. There will also be some announcements about upcoming events. There's always something in the service for kids as well, before they go out to their own great program. Our Sunday church service runs for just over an hour.
After
After the service there's free coffee and morning tea. Check out our events page to see what else may be happening too.
This is a great opportunity to meet people and get connected in our community.
Midweek
We don't only meet on Sunday mornings. During the week there are other opportunities to learn about Jesus and enjoy time together in Community Groups, at Playgroup and Trinity Youth.