---
This Sunday
Service Outline
Download the Bible talk outline for our Sunday.
Community Group Questions
Each of our Community Groups meet to discuss the Bible passage from Sunday in more detail. Click below to downed questions to help get the discussion started.
Connect Card
We'd love to get to know you and help you take your next steps. Fill out your details below to make contact with us.
---
Bible Talk Series

The Gospel of Mark is like a Netflix series recounting the life of Jesus life. Written by John Mark, who wrote his account from both Peter's sermons in the years after Jesus resurrection and his own eye witness accounts, he complies what scholars to believe the earliest account of Jesus' life (Written in AD55), the shortest account (678 verses), the punchiest account (Mark says the word immediately over 40 times and beings with no birth account or genealogy, but opens right with Jesus and his ministry) and it's full of action (Mark records more stories about Jesus, than Jesus' teaching). And, perhaps most pointedly, the great drama of Mark's Gospel is people's blindness to Jesus' identity and mission and call. People see and hear, but just don't understand. As you can see, it's a great Gospel for 21st century Adeladians as we come face to face with the amazing character and nature of God, as he's revealing himself though Jesus, showing us what life with him will be like and how he alone can forgive sins and restore us back to God, in a short, snappy package.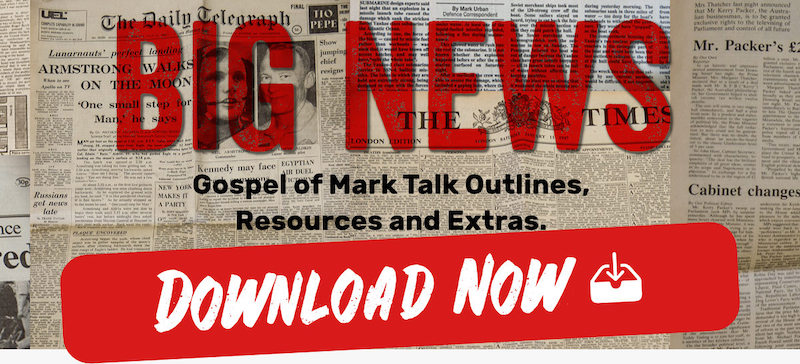 | | | |
| --- | --- | --- |
| Date | Talk Title | Passage |
| 5-Feb | The Beginning Of The Big News | Mark 1:1-28 |
| 12-Feb | Misconceptions About The Big News | Mark 2:13-3:6 |
| 19-Feb | Big News About The Kingdom of God | Mark 4:1-41 |
| 26-Feb | Big News: Jesus Always Has Time | Mark 5:21-43 |
| 5-Mar | Big News About Being A Faithful Witness | Mark 6:7-29 |
| 12-Mar | Big News About Our Hearts | Mark 7:1-37 |
| 19-Mar | Big News About Following Jesus | Mark 8:27-38 |
| 26-Mar | Big News About Who Jesus Is | Mark 9:2-13 |
| 2-Apr | Big News: It's Hard Sometimes | Mark 9:38-50 |
| 7-Apr – Good Friday | Sad News | Mark 14:1-11; 15:6-39 |
| 9-Apr – Easter Sunday | The Biggest News | Mark 16:1-20 |
| 16-Apr – Kids In | Big News About Being Good | Mark 10:17-31 |
| 23-Apr – Kids In | Big News About What's Important | Mark 12:18-34 |
Evangelistic Resources
Christianity Explored is more than a short course, the CE website has heaps of videos and resources to help us talk about Jesus and answer people's questions. Plus, it uses Mark's Gospel as the foundation for it's content.
Bible Talk Q&A
After each Bible talk series, we have a Q&A time. Let us know any questions you have below and we will answer them.
Do You Have Kids?
Kids are a big part of our church family because Jesus loved them, and welcomed them to himself. You can find out more about what's happening at Trinity Kids by chatting with Amanda.
One Last Thing
If there's only one thing you remember about us we hope you remember that we love Jesus
---
Next Steps
OnBoard
Thinking about making Trinity Church Golden Grove home? OnBoard is an afternoon all about what it means to join us as we gather as God's people to be a community who are loving God, loving others and making disciples in Adelaide's north. We run OnBoard once a month and you can find the next one on our events page.
Events
We do heaps of community events after church to help us connect with one another – we think these are really important in a COVID world. And, we are actively seeking to host events your friends would love to come along to, get to know other Christians, to hear the gospel or even explore bigger questions about Jesus and life with him.
Partnering With us
We give because God is generous to, and we see giving as an important way that we can put God first in our lives.
Account Name: Friends of Trinity Trust – Grove
Bank: Commonwealth Bank of Australia
BSB: 065 000
Account Number: 1213 1260
Reference: Golden Grove Giving
For more details on giving, click here.