---
Begin The Year Spiritually Healthy
January is a great time to set good habits in motion for the rest of the year – work, family, diet, exercise, holidays and rest. But have you given much thought to your spiritual habits? January's Bible talks are all about forming good, gospel habits into the new year so we can begin 2023 spiritually healthy.
Join us for the talks, subscribe to the weekly email for encouragement, share the weekly resolves on social media, download the 5 gospel habit questions to think through and watch from others who are resolved to follow Jesus this year.
---
Gospel Habits
Think of these 5 questions as helpful starting points. As you do, remember a love and awe of Jesus drives all that we do, for the glory of God in repose to his grace and mercy to us.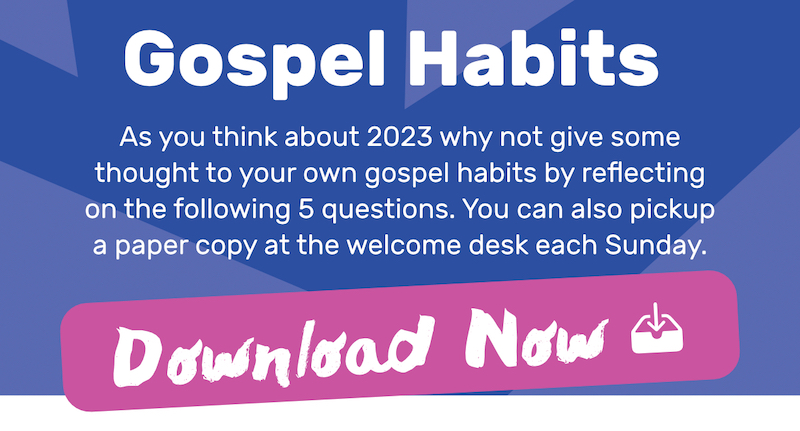 1. HOW WILL YOU BE GENEROUS?
Hospitality, regular financial giving, missional partners
2. HOW WILL YOU GROW TO LOVE GOD MORE AS AN INDIVIDUAL?
Regular bible reading, community group, prayer, books to read
3. HOW WILL YOU GROW TO LOVE GOD MORE AS A FAMILY?
Devotions as a couple or with your children, prayer times, books to read, podcasts to listen to and talk about
4. HOW CAN I LOVE GOD'S PEOPLE
Serving on a Sunday, welcoming guests, chatting about the over coffee question, contacting people mid-week
5. HOW CAN I TALK ABOUT JESUS MORE?
Church invites, LIFE course, merging universes, back pocket mission, regular prayer for the non-christians I know
---
Weekly Resolves
Below are some resolves from Jonathan Edwards that you may find helpful for your own Christian journey. Jonathan Edwards was an American revivalist preacher, philosopher, and theologian. During his life he wrote down 70 resolutions that reflected his love for Jesus, his desire to be holy and the mission of God.
Download and share on social media too.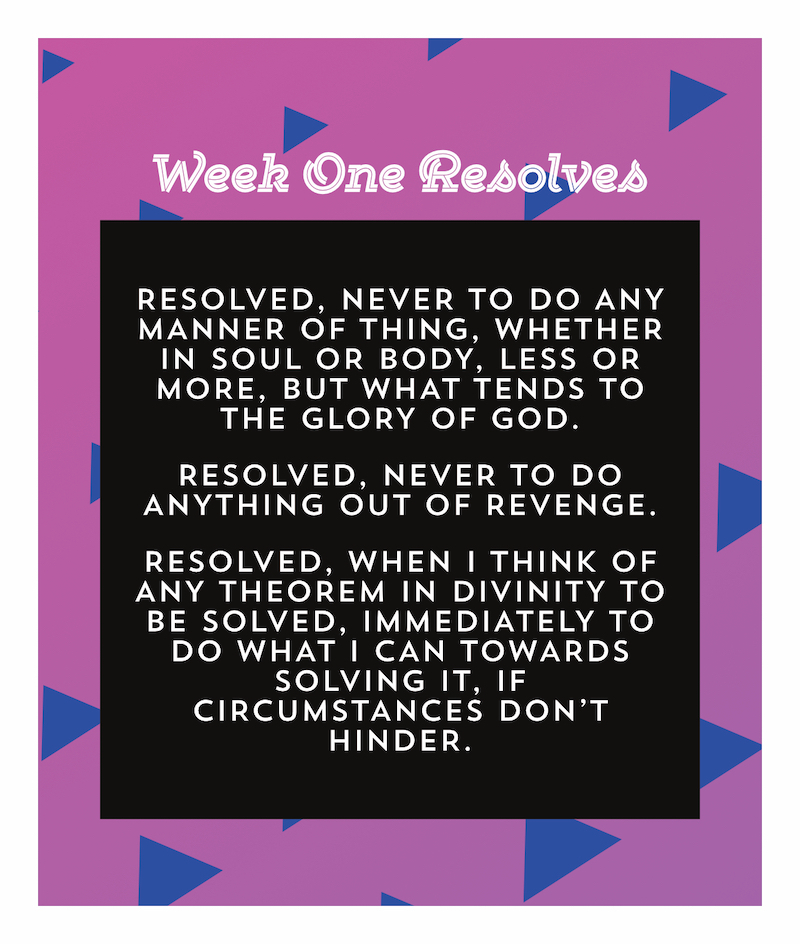 ---
Real Life Resolves
Hear from some of us as they share their resolves to draw closer to God through Bible reading and prayer in the new year.
Geoff & Heather